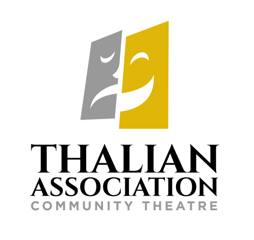 Thank you so much for your interest in the Thalian Association, North Carolina's Official Community Theater. We are extremely grateful for the hard work and dedication that all of our artists put into every production, and are always looking to add new members to our Thalian family. Anyone interested in a creative team position* for The Thalian Association's next season is invited to submit a proposal for consideration by the artistic director. If you are interested in working on more than one production, please complete for each position/production (unless you choose to direct/choreograph).
(*Available positions include: Director, Choreographer, Music Director, Stage Manager, Lighting Designer, Costume Designer, Set Designer, Props Master, Sound Designer. All positions are paid a stipend. If you are interested in applying for something that is not listed, please contact Chandler Davis at 910-251-1788)
All Applications may be dropped off or mailed to Thalian Association Community Theatre at 120 S. 2nd Street, Wilmington NC, 28401.
Applications may also be emailed to Chandler Davis.
 Position appointments will be made by June 3rd 2019.
Youth Theatre on the 2nd Street Stage in the Historic USO Building
James and the Giant Peach Sept. 13 – 22, 2019
Goosebumps the Musical Nov. 8 – 17, 2019
Disney Revue Jan 17 – 26. 2020
Xanadu Jr. (Director position taken) Mar 13 – 20, 2020
Freaky Friday Apr. 24 – May 3, 2020
Community Theatre
Matilda – Main Stage Thalian Hall Sept.27 – Oct. 6, 2019
Miracle on 34th Street – Main Stage Thalian Hall Dec. 13 – 22, 2019
Guys and Dolls – Kenan Auditorium Feb. 9 – 16. 2020
Cats – Kenan Auditorium April 2 – 5, 2020
The Producers – Main Stage Thalian Hall May 22 – 31, 2020
Name:  ______________________________________________ 
Phone: ______________________________________________
Email: ______________________________________________      
Creative Team Position:  __________________________________
Production: ___________________________________________      
Have you ever worked or volunteered for TACT before? If so in what capacity?
Have you ever worked in the Wilmington Theatre Community? If so, please list the production, company and in what capacity. Please feel free to attach a resume.
Please describe your organizational and leadership skills along with any pertinent background information.
Please explain why you are drawn to this show.
Please explain how you work in a team environment, especially one where other team members have their own designs to add to the production.
For directors: 1. Please describe your rehearsal process. 2. Describe your top three priorities in rehearsal and your top three priorities during tech week.
For directors, choreographers, and music directors: Please describe your path creating to a high-quality production while also working with people who volunteer their time for the organization.