FOR IMMEDIATE RELEASE
CONTACT:
Chandler Davis, Artistic Director
Thalian Association Community Theatre
910-251-1788
Casting Complete for Summer Production on the USS North Carolina!
WILMINGTON, NORTH CAROLINA – Thalian Association Community Theatre is pleased to announce they have assembled the cast for their production of Mister Roberts after two days of auditions on the USS North Carolina. The title character will be played by Woody Stefl. Captain Morton will be played by Stuart Pike, Ensign Pulver will be played by Jeff Hidek, and Doc will be played by Joseph Renton. The rest of the cast includes Mark Deese, Aaron Johnson, Jonathan Wallin, Jordan Hathaway, Joseph Angel, Mike Thompson, Charles Calhoun, with Sydney Smith Martin as Lt. Ann Girard.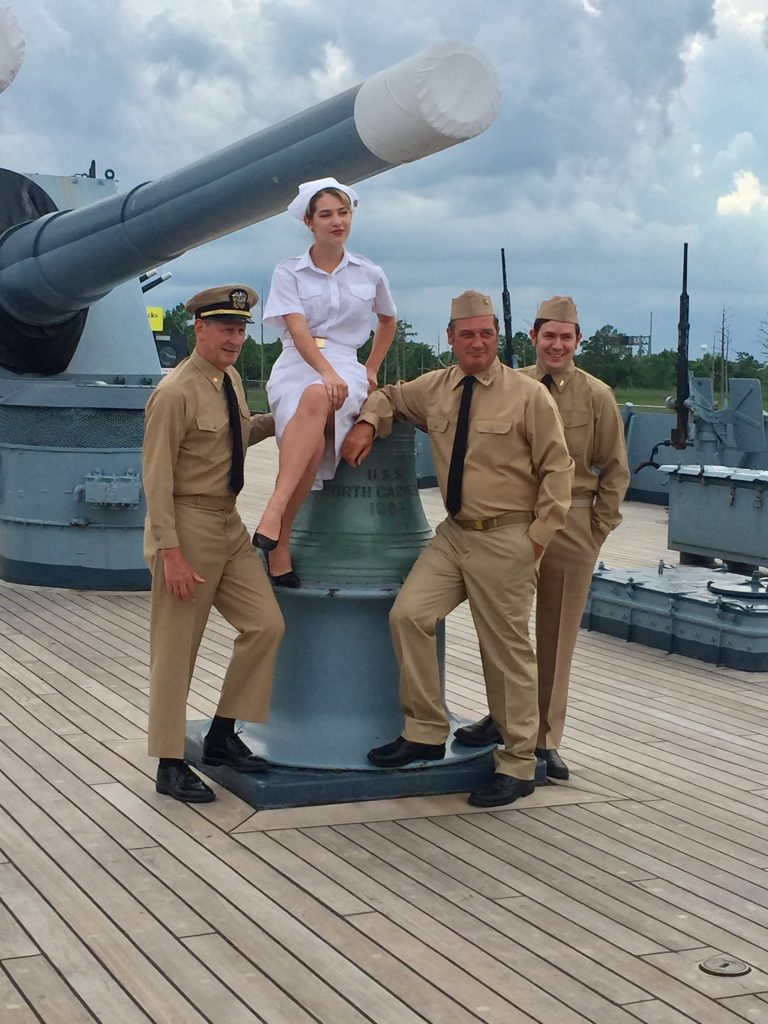 Mister Roberts is the rowdy, realistic saga of a group of American sailors aboard a Navy cargo vessel in the Pacific. The crew, suffering from that deadly boredom that is part of the routine of war and an inept Captain, turns to Lt. Roberts for leadership and inspiration. The production, directed by TACT Artistic Director Chandler Davis, opens on July 4th on the fantail of the USS North Carolina and runs through July 23rd. Shows run Thursday through Sunday at 8 pm, excluding the special July 4th performance which will begin at 7 pm.
"One of the reasons community theatre is so special is that the actors you see on stage are your neighbors, friends, folks you do business with or see around town," said Susan Habas, Thalian Association Community Theatre Executive Director. "They all have many other responsibilities, and volunteer their talent and time to bring us wonderful entertainment. For example, Woody Stefl (Mister Roberts) works in construction, Stuart Pike (Cpt. Morton) lives in Southport and is a financial advisor with a national firm, Jeff Hidek (ENS. Pulver) handles Special Events at Star News Media and Sydney Smith Martin (Lt. Girard) is a student at CFCC.
The Battleship NORTH CAROLINA is self-supporting, not tax supported and relies primarily upon admissions to tour the Ship, sales in the Ship's Store, donations and investments. No funds for its administration and operation come from appropriations from governmental entities at the local, state or federal levels. Located at the junction of Highways 17/74/76/421 on the Cape Fear River. Visit www.battleshipnc.com or follow us on Facebook.com/ncbb55 and Twitter.com/battleshipnc for more information. Relive with the crew on the Battleship Blog http://seastories.battleshipnc.com/. The Battleship NORTH CAROLINA is an historic site within the North Carolina Department of Natural and Cultural Resources (www.NCCulture.com).
Thalian Association Community Theatre Established in 1788, Thalian Association Community Theatre is a non-profit, membership organization dedicated to enhancing the Cape Fear region through live community theatre and arts education. Thalian Association Community Theatre produces five major productions annually on the Main Stage at historic Thalian Hall and professionally manages the Hannah Block Historic USO/Community Arts Center for the City of Wilmington. The youth theatre program was created in 1979 to offer training and performance opportunities for children age seven through high school seniors. In 2007, Thalian Association Community Theatre was designated North Carolina's Official Community Theater by the state legislature.