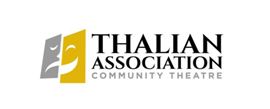 FOR IMMEDIATE RELEASE
CONTACT:
Chandler Davis, Artistic Director
Thalian Association Community Theatre
910-251-1788
WILMINGTON, NC- Thalian Association Community Theatre will hold auditions for the final show of their 2016- 2017 Main Stage Season, Cat on a Hot Tin Roof, on Monday, March 27 and Tuesday, March 28 at 6pm. Auditions will be held at the Community Arts Center, 120 S. 2nd Street in downtown Wilmington. The production, directed by Debra Gillingham, will run May 18 through May 28 at Thalian Hall.
*NEW THIS YEAR*
AUDITION PARTICIPANTS MUST SCHEDULE AN AUDITION TIME. To schedule an audition time, please contact Chandler Davis at 910-251-1788 or email her with your preferred day and time.
IMPORTANT: Children's auditions will be scheduled first between 6 and 6:45 both evenings. Children should be prepared to read from the script. Adult participants should prepare a monologue no longer than three minutes and also be prepared to read from the script.
Available Roles:
Brick: Brick Pollitt is the twenty-seven-year-old son of Big Daddy, and husband of Margaret (Maggie). Brick is the favorite son of Big Daddy, despite the fact that he is eight years younger than Gooper.
Doctor Baugh: Doctor Baugh is the Pollitt family doctor.
Big Daddy: The husband of Big Mama and the father of Gooper and Brick. Big Daddy is a self-made man and proud of himself.
Dixie: Dixie is one of Mae and Gooper's five children.
Gooper: Gooper is Big Daddy's eldest son, and Mae's husband. He is a corporate lawyer in
Memphis.
Mae: Mae is married to Gooper. She has five children and is pregnant with a sixth.
Big Mama: Big Mama is the wife of Big Daddy
Margaret: Margaret, known as Maggie, is Brick's wife. She is an attractive, vivacious, and tenacious woman. Reverend Tooker: Reverend Tooker is the local preacher. The Children: Mae and Gooper's children.
Synopsis:
In a plantation house, the members of the family are celebrating the sixty-fifth birthday of the Big Daddy, as they sentimentally dub him. The tone is light. But the mood is somber. For a number of old evils poison the gaiety—sins of the past, greedy hopes for the future, a desperate eagerness not to believe in the truths that surround them…CAT ON A HOT TIN ROOF is a delicately wrought exercise in human communication.
Download/Print Gooper Mae Sides
Download/Print Big Mamma Sides
Download/Print Big Daddy Sides