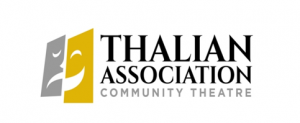 CONTACT:
Chandler Davis, Artistic Director
Thalian Association Community Theatre
910-251-1788
WILMINGTON, NC- Thalian Association Community Theatre will hold auditions for the final show of their 2016/2017 Youth Theatre Season, A Chorus Line, on Monday February 27th and Tuesday February 28th at 5pm. Auditions will be held at the Community Arts Center, 120 S. 2nd Street in downtown Wilmington. The production, directed by Kendra Goehring-Garrett, runs April 28 through May 7th at the Community Arts Center.
Audition participants should be prepared to read from a provided script, learn a song from the show at auditions, and participate in a short dance call. Please wear clothes and shoes you can dance in and bring a picture that can be attached to your information sheet.
*IMPORTANT* Due to the nature of the material, anyone auditioning must be 13 years or older. Exceptions for younger experienced TACT dancers MAY be made on a case by case basis by meeting with the Artistic Director in person with a parent to discuss each individual situation.
Available Roles:
Zach, the director.
Larry, Zach's assistant.
Don Kerr, a married man.
Maggie Winslow, a sweet woman who grew up in a broken home.
Mike Costa, an aggressive dancer who learned to tap at an early age.
Connie Wong, a petite Chinese-American who seems ageless.
Greg Gardner, a sassy Jewish
Cassie Ferguson, a once successful solo dancer down on her luck and a former love of Zach's.
Sheila Bryant, a sassy, aging dancer who tells of her unhappy childhood.
Bobby Mills, Sheila's best friend who jokes about his conservative upbringing in Buffalo, New York.
Bebe Benzenheimer, a young dancer who only feels beautiful when she dances.
Judy Turner, a tall, gawky, and quirky dancer.
Richie Walters, an enthusiastic black man who once planned to be a kindergarten teacher.
Al DeLuca, an Italian-American who takes care of his wife.
Kristine Urich (DeLuca), Al's scatter-brained wife who can't sing.
Val Clark, an excellent dancer who couldn't get performing jobs because of her looks.
Mark Anthony, the youngest dancer.
Paul San Marco, a Puerto Rican who dropped out of high school and survived a troubled childhood.
Diana Morales, Paul's friend, another Puerto Rican who was underestimated by her teachers.
Other Dancers:
Tricia, who has a brief vocal solo.
Vicki, who never studied ballet.
Lois, who dances like a ballerina.
Roy, who can't get the arms right ("Wrong arms Roy").
Butch, who gives attitude in the audition.
Tom, an all-American jock.
Frank, who looks at his feet when he dances ("headband").
Synopsis:
The show opens in the middle of an audition for an upcoming Broadway production. The formidable director Zach and his assistant choreographer Larry put the dancers through their paces. Every dancer is desperate for work ("I Hope I Get It"). After the next round of cuts, 17 dancers remain. Zach tells them he is looking for a strong dancing chorus of four boys and four girls. He wants to learn more about them, and asks the dancers to introduce themselves. With reluctance, the dancers reveal their pasts. The stories generally progress chronologically from early life experiences through adulthood to the end of a career.