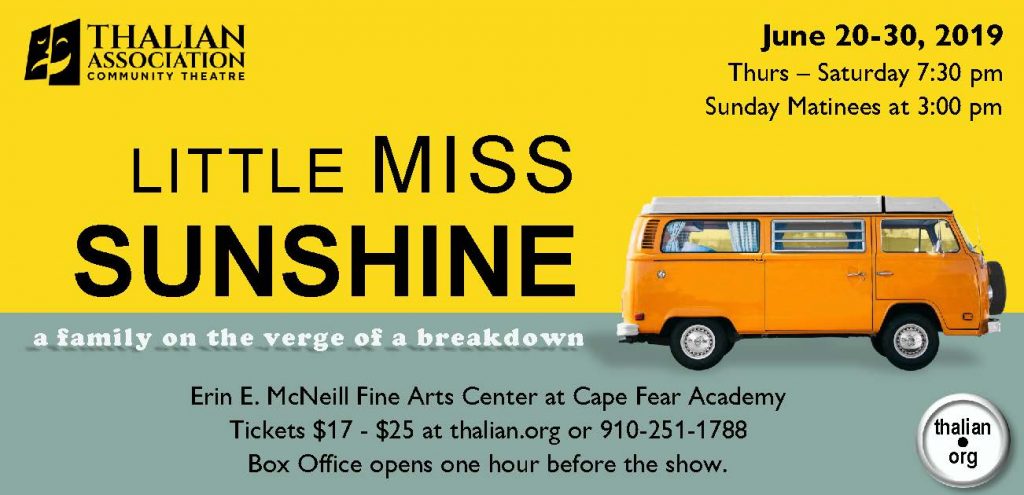 Thalian Association Community Theatre will hold auditions for Little Miss Sunshine, Monday April 29 and Tuesday April 30 at 7pm. Auditions will be held at the Community Arts Center, 120 S. 2nd Street in downtown Wilmington. The production, directed by Chandler Davis, runs June 20 through June 30 at the Brown Family Theatre at Cape Fear Academy. Cathy Street will music direct and Benedict Fancy will serve as Technical Director.
Audition Participants need to prepare 16 bars of a musical theatre style song to sing along with the sheet music. An accompanist will be provided. Those wishing to audition may call 910-251-1788 to set up an audition time with Community Arts Center staff. Callbacks will be Wednesday May 1 at the Community Arts Center. Those called back need to be prepared to read from a provided script and sing from the show. All roles are available.
Synopsis:
From the Tony Award-winning team of James Lapine (Into the Woods, Sunday in the Park with George) and William Finn (25th Annual Putnam County Spelling Bee) comes a musical comedy about one modern family's unexpected route to brighter days. Based on the Academy Award-winning film, Little Miss Sunshine is an outrageously funny and surprisingly touching musical.
The Hoover family has seen better days. Richard, the father, is a floundering motivational speaker, Grandpa's been kicked out of his retirement home and Uncle Frank's been dumped by his boyfriend. Moody teenager, Dwayne, has taken a vow of silence, and overextended mom, Sheryl, can do little more than slap on a smile. But, when the youngest Hoover… energetic Olive, enters a regional children's beauty pageant, the family thinks that their luck could change and embarks on a cross-country trek, chasing the coveted title of "Little Miss Sunshine."
Available Roles:
Richard Hoover
A self-help entrepreneur. Created a pathway to success following his "Ten Step Method." Still waiting for success.
Gender: Male
Vocal range top: A4
Vocal range bottom: A2
Sheryl Hoover
The Hoover matriarch who loves her family very much. Feeling strain in her marriage.
Gender: Female
Vocal range top: G5
Vocal range bottom: A3
Grandpa
Richard's formerly estranged father. In his sixties and a little worse for the wear. Coaches Olive for pageants.
Gender: Male
Age: 60 +
Vocal range top: E4
Vocal range bottom: A2
Olive Hoover
The youngest member of the Hoover Family and aspiring beauty queen.
Gender: Female
Age: 9 to 12
Vocal range top: Eb5
Vocal range bottom: G3
Dwayne Hoover
Sheryl and Richard's teenage son. Determined to become a pilot and has taken a vow of silence until he gets to flight school.
Gender: Male
Age: 15 to 21
Vocal range top: F4
Vocal range bottom: B2
Uncle Frank
Sheryl's academic brother. Suffers from depression and recently attempted suicide after a heartbreak.
Gender: Male
Age: 30 to 45
Vocal range top: E4
Vocal range bottom: A2
Larry Sugarman
A Proust Scholar who stole Frank's lover.
Gender: Male
Vocal range top: A4
Vocal range bottom: E2
Buddy Dean Gardner
A Little Miss Sunshine contest official and host.
Gender: Male
Age: Any
Vocal range top: A4
Vocal range bottom: B2
Doctor
A doctor who talks with the Hoover Family after Grandpa is brought to the hospital.
Gender: Male
Age: Any
Linda
A bereavement liaison at the hospital.
Gender: Female
Age: Any
Miss California
Co-host of the Little Miss Sunshine finals.
Gender: Female
Age: 20 to 40
Vocal range top: D5
Vocal range bottom: A3
Joshua Rose
Frank's old beau and former graduate student.
Gender: Male
Age: 24 to 30
Vocal range top: E4
Vocal range bottom: C2
Kirby
A laid-back stoner who enters Olive in the Little Miss Sunshine Finals after the family arrives late.
Gender: Male
Age: 24 to 30
Funeral Home Worker
A worker at the funeral home.
Age: Any
Bridget / Mean Girl
A contestant in the Little Miss Sunshine finals and a mean girl in Olive's mind.
Gender: Female
Age: 8 +
Vocal range top: D5
Vocal range bottom: B3
Tracee / Mean Girl
A contestant in the Little Miss Sunshine finals and a mean girl in Olive's mind.
Gender: Female
Age: 8 +
Vocal range top: D5
Vocal range bottom: B3
D'Borah / Mean Girl
A contestant in the Little Miss Sunshine finals and a mean girl in Olive's mind.
Gender: Female
Age: 8 +
Vocal range top: D5
Vocal range bottom: B3
Chelsea/Mean Girl
A contestant in the Little Miss Sunshine finals and a mean girl in Olive's mind.
Gender: Female
Age: 8 +