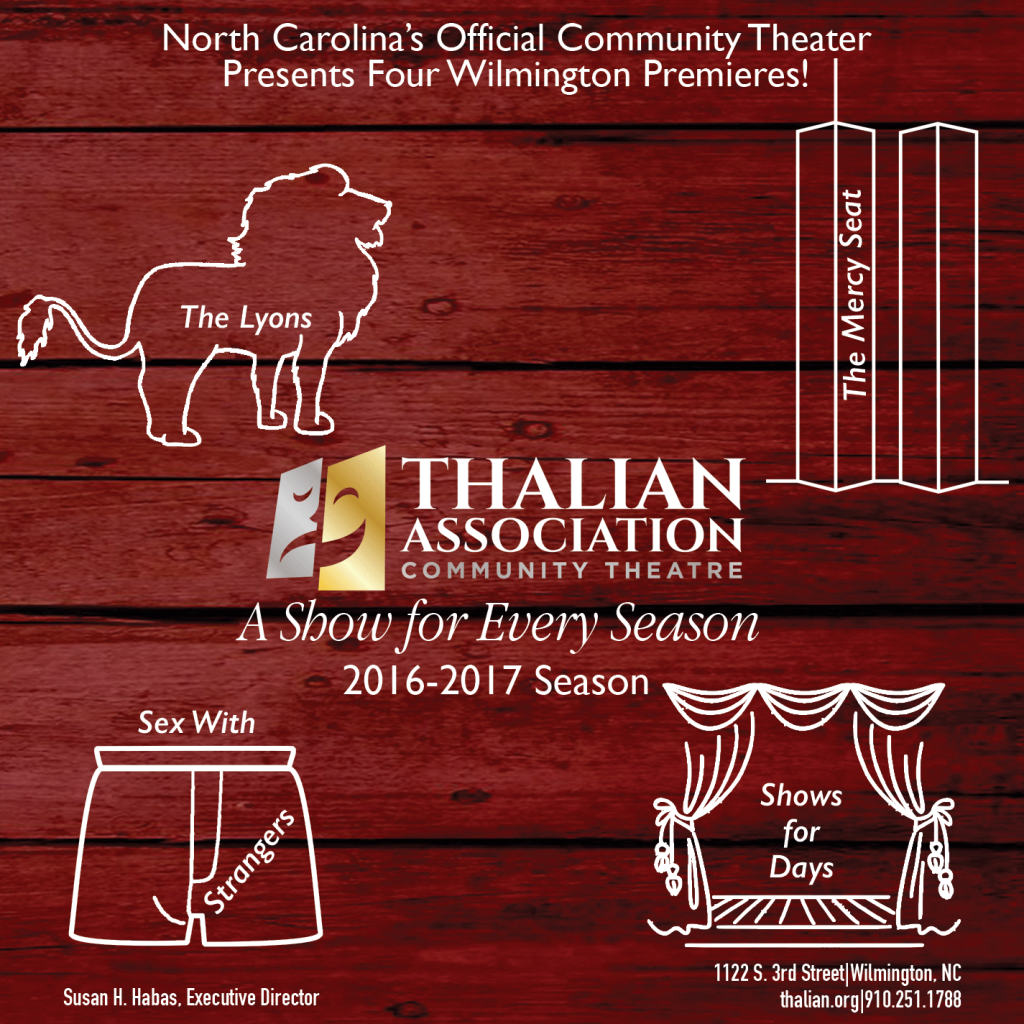 All Wilmington Premieres!
The Mercy Seat Aug. 11 – 28, 2016 by Neil Labute
In honor of the 15 year anniversary of September 11, 2001; The world has changed overnight. On September 12, 2001, Ben Harcourt finds himself in the New York downtown apartment of his lover and boss, Abby Prescott. His endlessly ringing mobile phone haunts their conversation as Ben and Abby explore the choices now available to them in an existence different from the one they knew just the day before. Will Ben let his family know he's alive, or will he and Abby take this chance to create a new life for themselves?
Shows for Days Nov. 3 – 20, 2016 by Douglas Carter Beane
Shows For Days is set in Reading, Pennsylvania in 1973, when 14-year old Car, the play's narrator and the author's alter-ego, is introduced to the world of theater through his local community theatre, the Prometheus Theatre, and its devoted cast and crew which is led by Irene, an indomitable force of nature whose life is dedicated to putting on productions she directs, designs and stars in.
Sex With Strangers Mar. 9 – 26, 2017 by Laura Eason
How far will you go to get what you want? This "twisty and timely two character drama about lust love, and the complex nature of identity in our digital dominated era" (NY TIMES) follows twenty-something blogger, Ethan. When he tracks down his idol, the gifted but obscure forty-ish novelist Olivia, he finds they each crave what the other possesses. As attraction turns to sex, and they inch closer to getting what they want, both must confront the dark side of ambition and the trouble of reinventing oneself when the past is only a click away.
The Lyons June 8 – 25, 2017 by Nicky Silver
Ben and Rita have been at war for many years, and Ben's impending demise has brought no relief. When they're joined by their children all efforts at a sentimental goodbye are soon abandoned and secrets and accusations replace sentimental memories