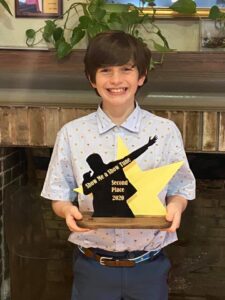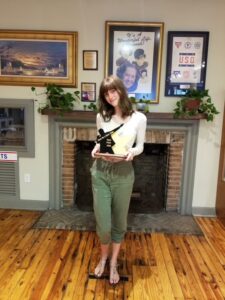 FOR IMMEDIATE RELEASE
CONTACT:
Susan Habas, Executive Director
Thalian Association Community Theatre
910-251-1788 shabas@thalian.org
Show Me a Show Tune Top Three!
First Sing-Off Fundraiser to Support Thalian Association Raises $11,234
Wilmington, NC –Thalian Association is proud to announce the top three videos from Show Me A Show Tune, their first online sing-off fundraiser. The fundraiser was a huge success raising $11,234 to support Thalian Association's productions, Youth Theatre, and arts education. Show Me a Show Tune was live on Facebook Sept. 16th – Oct. 7th with thirty five contestants singing show tunes from their favorite musicals. The popular sing-off reached more than 32,000 people, who could vote for their favorite video with a $5.00 minimum donation.
Samuel Hatch received the most votes raising $2150 for his rendition of Out There from Disney's Hunchback of Notre Dame. Placing second in the sing-off is Sadler Selby with $1600 in donations for the community theatre association for his rendition of Electricity from Billy Elliot the Musical. Marley Aliah rounds out the Top Three singing Something's Coming from West Side Story with $890 in contributions.
"Show Me A Show Tune was successful beyond our wildest expectations," said Susan Habas, Executive Director of Thalian Association Community Theatre. "We were worried that people are tired of viewing content online, but our community enjoyed the videos and joined in the fun! The Facebook page reached so many people and raised vital funds to keep our programs going during this extended down time. Now more than ever we are so grateful for everyone's support!"
The Show Me a Show Tune top three will receive a trophy designed by Kids Making It and have their videos hosted permanently on the Thalian You Tube channel.  The Top Three video can also be viewed on the Show Me a Show Tune Facebook page. Thalian Association plans to make the online sing-off an annual fundraiser every September – October to kick off their theatrical season.
Established in 1788, Thalian Association Community Theatre is a non-profit, membership organization dedicated to enhancing the Cape Fear region through live community theatre and arts education. Thalian Association Community Theatre produces five major productions annually on the Main Stage at historic Thalian Hall and professionally manages the Hannah Block Historic USO/Community Arts Center for the City of Wilmington. The youth theatre program offers training and performance opportunities for children age seven through high school seniors. In 2007, Thalian Association Community Theatre was designated North Carolina's Official Community Theater by the state legislature. For more information, go to www.thalian.org.