New & Noteworthy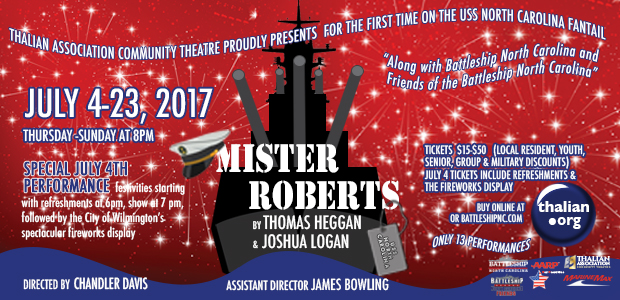 MR. ROBERTS – A THALIAN ASSOCIATION COMMUNITY THEATRE PRODUCTION
Thalian Association Community Theatre and the Friends of the Battleship NORTH CAROLINA are pleased to announce a partnership that will bring a month of live theatre to the fantail of the Battleship during July 2017.  
Mister Roberts
 will open on July 4 with fireworks following, and performances will be held Thursday through Sunday for the next 3 weekends. Special ticket prices are available for military, local residents and more.
Read More…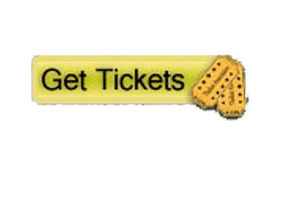 Special Discount for AARP Members with Promotion code (excluding July 4th performance)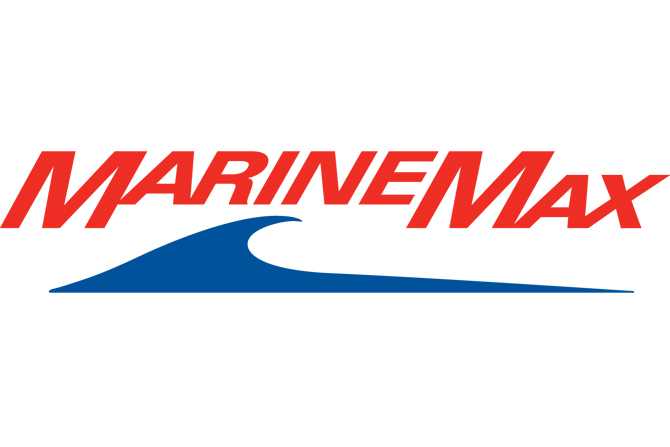 FOR IMMEDIATE RELEASE
JUNE 16, 2017
770-781-9370 x10807
MARINEMAX
PARTNERS WITH LOCAL THEATER PRODUCTION
WRIGHTSVILLE BEACH, NC. (June 16, 2017) – MarineMax Wrightsville Beach announced today that they are sponsoring a production of Mr. Roberts, to be held on the deck of USS NORTH CAROLINA in Wilmington, July 4 – 23. In conjunction with the opening, they will also be kicking off an exclusive Fourth of July Getaway!® downtown for their customers.
The production is a collaboration between the Thalian Association Community Theatre and the Friends of the Battleship NORTH CAROLINA.
This exciting community partnership is a unique way to support local theater while highlighting Historic Wilmington's scenic riverfront." said Captain Terry Bragg, Executive Director of the Battleship NORTH CAROLINA. "We look forward to providing a memorable experience for all guests aboard the Battleship NORTH CAROLINA."
Mister Roberts is the classic play based on the 1946 Thomas Heggen novel of the same name. The novel began as a collection of short stories about Heggen's experiences aboard the cargos ships USS Virgo and USS Rotanin in the South Pacific during World War II. Mister Roberts is the recipient of five Tony Awards including Best Play and is still considered one of the most successful plays today with a total of 1,157 performances over a three-year run on Broadway. The play was then adapted into the 1955 hit film starring legendary actors Henry Fonda as Lieutenant Roberts and James Cagney as Lt. Commander Morton. Mister Roberts went on to be an Academy Award nominee for Best Picture and Jack Lemmon received the 1955 Oscar for Best Supporting Actor for his work on the film.
"This patriotic play takes place aboard a ship in the Pacific Theater during WWII, and the fantail of the Battleship is the most perfect venue imaginable on which to stage it", said Susan Habas, Executive Director of Thalian Association Community Theatre. "We operate the Hannah Block Historic USO/ Community Arts Center, so honoring WWII is always on our minds, and we are privileged to be partnering with the most decorated battleship of that time."
In celebration, MarineMax Wrightsville Beach will be hosting an exclusive Getaway! for their clients to enjoy a VIP reception with access to the production's dress rehearsal on July 3. Then on opening night, July 4, they will take in the sights and sounds of Wilmington, finishing the evening with a spectacular firework display.
"This opportunity is a perfect addition to our Fourth of July Getaway" said Thom Cross, General Manager of MarineMax Wrightsville Beach. "We're always looking for ways to enhance the trips that we organize for our customers. This event is a way for us to not only create a memorable group experience, but to also incorporate our community and promote the incredible location that we're fortunate enough to live in."
Tickets for all shows are now on sale at www.etix.com. Special ticket pricing for Opening Night July 4th are $50 adults/$25 children and include a grand view of Downtown Wilmington's Fireworks display. Regular show prices range from $30 for adults, $25 for seniors, $15 for children and $15 for retired and active military. Special group rates apply for parties of 12 or more.
MarineMax
Wrightsville Beach is excited to partner with these great organizations to bring awareness to an amazing production, and to be a patriotic supporter of this national historic landmark.
Headquartered in Clearwater, Florida,
MarineMax
is the nation's largest recreational boat and yacht retailer. Focused on premium brands, such as Sea Ray, Boston Whaler, Meridian, Azimut Yachts, Ocean Alexander, Galeon, Sea Pro and Aquila,
MarineMax
sells new and used recreational boats and related marine products and services as well as provides yacht brokerage and charter services.
MarineMax
currently has 62 retail locations in Alabama, California, Connecticut, Florida, Georgia, Maryland, Massachusetts, Minnesota, Missouri, New Jersey, New York, North Carolina, Ohio, Oklahoma, Rhode Island, South Carolina and Texas and operates
MarineMax
Vacations in Tortola, British Virgin Islands.
MarineMax
is a New York Stock Exchange-listed company. For more information, please visit
MarineMax
.
Mr. Roberts Live on the Battleship NORTH CAROLINA – A Once in a Lifetime Production!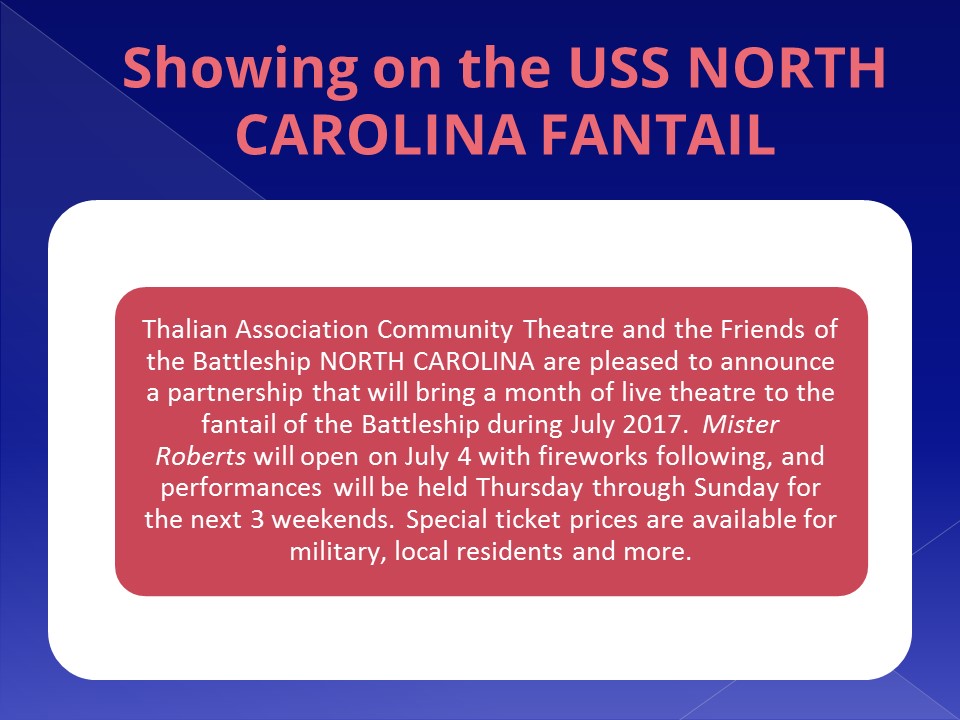 Casting Complete for Summer Production on the USS North Carolina!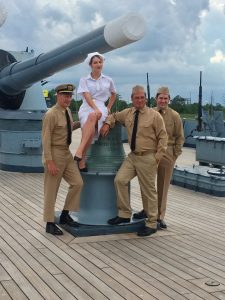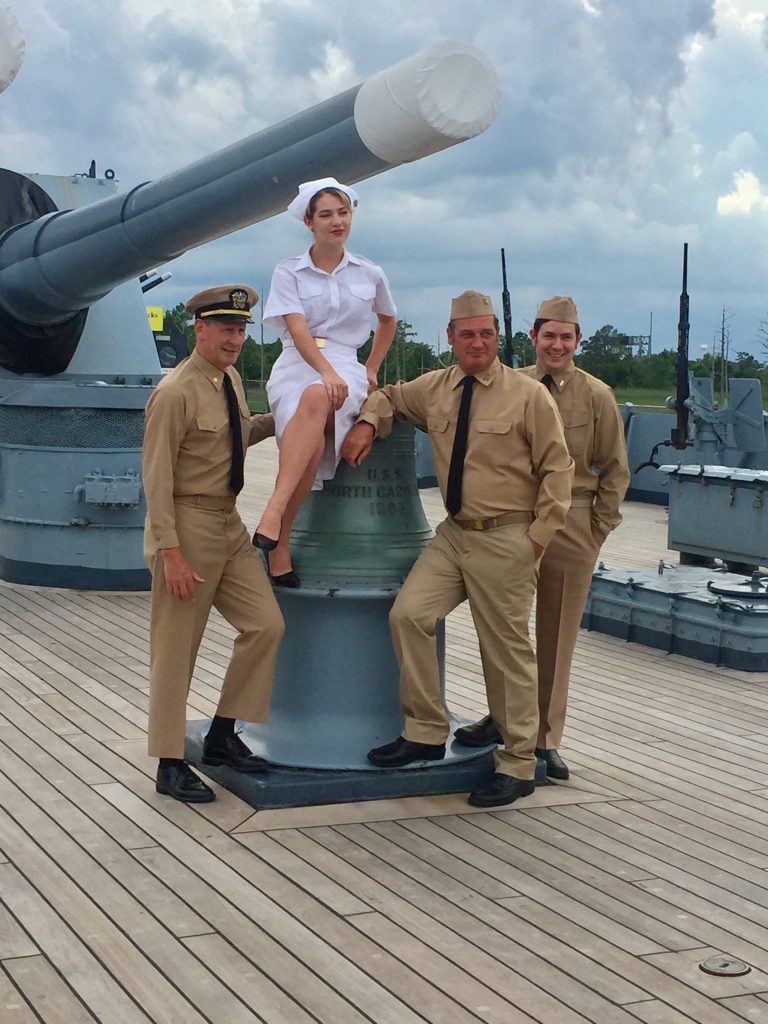 WILMINGTON, NORTH CAROLINA – Thalian Association Community Theatre is pleased to announce they have assembled the cast for their production of Mister Roberts after two days of auditions on the USS North Carolina. The title character will be played by Woody Stefl. Captain Morton will be played by Stuart Pike, Ensign Pulver will be played by Jeff Hidek, and Doc will be played by Joseph Renton. The rest of the cast includes Mark Deese, Aaron Johnson, Jonathan Wallin, Jordan Hathaway, Joseph Angel, Mike Thompson, Charles Calhoun, with Sydney Smith Martin as Lt. Ann Girard.
Read More….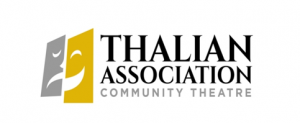 FOR IMMEDIATE RELEASE
CONTACT:
Thalian Association Community Theatre
910-251-1788
THALIAN ASSOCIATION COMMUNITY THEATRE ANNOUNCES 2017 DONN ANSELL & PAT HINGLE SCHOLARSHIPS
WILMINGTON, NC –Thalian Association Community Theatre is proud to announce that the 2017 Donn Ansell Memorial Scholarship will be $2600 thanks to the generosity of the Donn Ansell family and friends. The scholarship is awarded annually to a deserving high school senior who plans to pursue a degree in theatre or film. The Donn Ansell family established the scholarship to honor Donn's many achievements in local theatre, radio and television, his service to the Wilmington community and his proud history with Thalian Association Community Theatre as its first Managing Director.
Read more…
Youth Academy
Check back this summer for the Fall 2017 schedule! Classes will be held at the Hannah Block Historic USO/Community Arts Center